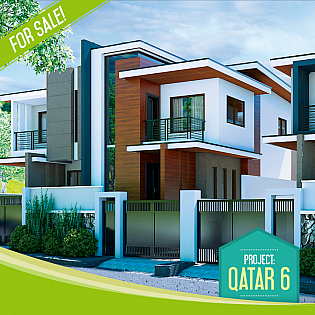 Qatar 6: Single and Duplex Houses
A modern minimalist home for the modern minimalist you!
This beautiful residential property is a modern mix of single and duplex houses. You can choose the type of unit that suits you and your family's way of life and leisure moments. Designed to provide a natural sense of ease and relaxation, you can now live beyond expecation that is worth far more than invested.
Wide window opening for natural air and light ventilation

Spacious open plan of living and dining area

Elevated ground and with viewing deck

Secured with perimeter fence with gate

Modern aesthetic facade
Type: Single Dwelling and Duplex
Starting Price: 2,670,000 (model house only)
Bedrooms: 3
Floor Area: 106.67 sqm to 111.91 sqm
Floors: 2
Bathrooms: 3
Lot Area: 82.64 sqm to 149.74 sqm (suggested)
Images / Plans
Click each image to enlarge
We offer FREE consultation!
For your enquiries, please contact us:
Email: info@2build4less.com
Landline: (63-2) 369.9959
Mobile: (63) 998.849.9408
You may also contact us via our ENQUIRY FORM below.