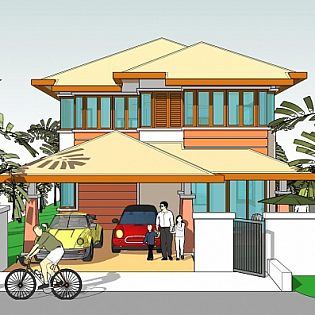 El Grande 4: A Single Dwelling
A beautifully architect-designed spacious modern home for you!
A two-storey house with four bedrooms
All bedrooms come with either shared or attached bathrooms
Spacious living and dining rooms with views of the landscape garden
Parking space for two cars, side by side
Guest room or study room with attached bathroom on the ground floor


Type: Single Dwelling
Starting Price: 5.9M + lot (model house only)
Bedrooms: 4
Floor Area: 270+ sqm
Floors: 2
Bathrooms: 2 to 4
Lot Area:
Images / Plans
Click each image to enlarge
We offer FREE consultation!
For your enquiries, please contact us:
Email: info@2build4less.com
Landline: (63-2) 369.9959
Mobile: (63) 998.849.9408
You may also contact us via our ENQUIRY FORM below.